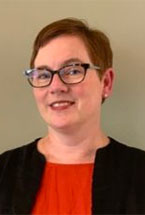 Julie
Eddington
Shareholder and Former President
612-337-9213
Economic Development and Redevelopment, Public Finance
Economic Development and Redevelopment, Public Finance
Julie Eddington is a shareholder and the former president of Kennedy & Graven, Chartered. Julie's practice focuses on public finance and economic development and redevelopment. She advises towns, cities, counties and authorities in all aspects of public finance, including the issuance of revenue bonds, general obligation bonds, conduit borrowing, development and redevelopment. Julie also assists clients in responding to IRS audits of tax-exempt bonds.
Julie joined Kennedy & Graven in 2004. Julie grew up in Madison, Wisconsin and received her B.A. degree from the University of Wisconsin Madison in 1989. In 1991, Julie earned a master's degree from the University of Wisconsin Madison's Journalism School. Julie moved to the Twin Cities in 1993 and enrolled in Hamline University School of Law. She earned her law degree cum laude in 1996.
Julie has this to say about Kennedy & Graven: Practicing public interest law at Kennedy & Graven is very rewarding. I have the opportunity to work with local governments to implement improvements and then see the results of that work in the communities around me. The people at Kennedy & Graven are committed to public sector work and it is a wonderful environment in which to work.
Education
Hamline University School of Law, St. Paul, Minnesota Juris Doctor cum laude – 1996 Law Review: Hamline Law Review, Articles Editor, 1995 – 1996
University of Wisconsin – Madison M.A. – 1991 Major: Journalism
University of Wisconsin – Madison B.A. – 1989 Major: Sociology and Journalism
Bar Admissions Minnesota, 1996
Professional Associations and Memberships National Association of Bond Lawyers, Member Minnesota State Bar Association, Member Hennepin County Bar Association, Member Minnesota Women Lawyers, Member
Honors and Awards Minnesota Federal Bar Association's Judge Jacob Dim Award for Excellence in the Study of Bankruptcy, 1995 CALI Excellence for the Future Award, Study of Tax, 1996
Volunteer Activities Current Clerk (Chair) of the Friends School of Minnesota School Committee Current Clerk (Chair) of the Friends School of Minnesota Executive Committee Former Treasurer and Clerk (Chair) of the Friends School of Minnesota Finance Committee Volunteer for the Friends School Plant Sale since 2012