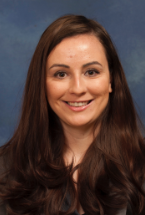 Gina
Fiorini
Shareholder
612-337-9210
Economic Development and Redevelopment, Public Finance
Economic Development and Redevelopment, Public Finance
Gina Fiorini is a shareholder at Kennedy & Graven, Chartered, practicing in the area of public finance. Gina joined Kennedy & Graven in 2013.
Born and raised in Chisholm, Minnesota, Gina attended the University of St. Thomas where she received her B.A. degree, graduating summa cum laude. She then received a master's degree in Political Management from George Washington University in Washington, DC.
Gina graduated magna cum laude in 2010 from the University of Minnesota Law School where she was a member of the Order of the Coif. While in Law School, she was a director and competition team member of the Environmental Law Moot Court. In addition, she worked as a law clerk at Campbell Knutson, PA, and externed for United States District Court Judge Richard H. Kyle. After law school, she clerked for United States Magistrate Judge Leo I. Brisbois in Duluth, Minnesota.
Gina lives in Minneapolis with her husband and her fox terrier. Her other interests include figure skating, cooking, reading, and history.
Gina has this to say about Kennedy & Graven: Helping local governments grow and strengthen their communities is deeply rewarding to me, magnified by the opportunity to do so at Kennedy & Graven amid experts in the field who share the same goals.
Education University of Minnesota Law School, Minneapolis, Minnesota J.D. magna cum laude – 2010 Honors: Order of the Coif
George Washington University, Washington, District of Columbia Masters in Professional Studies – 2007 Major: Political Management
University of St. Thomas, Saint Paul, Minnesota B.A. summa cum laude – 2006 Major: Political Science and History
Bar Admissions Minnesota, 2010
Professional Associations and Memberships Minnesota State Bar Association, Member Hennepin County Bar Association, Member Minnesota Women's Lawyer's Association, Member National Association of Bond Lawyers, Member