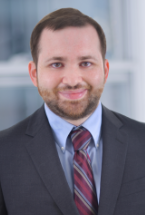 Josh P.
Devaney
Associate
612-337-9285
Eminent Domain, Environmental Law, Land-Use Litigation
Eminent Domain, Environmental Law, Land-Use Litigation
Josh Devaney is an associate at Kennedy & Graven, Chartered and practices in the areas of general municipal law, eminent domain, land-use litigation, and environmental law.
Prior to joining Kennedy & Graven in 2016, Josh volunteered with Mid-Minnesota Legal Aid and WATCH. Josh received his B.A. in economics from Reed College. He graduated from the University of Minnesota Law School in 2014. While in law school, Josh volunteered with the Asylum Project, helping immigrant women who are survivors of domestic abuse apply for U.S. citizenship. At an externship with ATK, he assisted in-house counsel with research and writing on a variety of issues faced by a large employer and developed a first-hand understanding of client needs. He also played the oboe in the pit orchestra of T.O.R.T., the law school musical.
Josh lives in Minneapolis with his cat, Gideon. He is an avid reader and also enjoys cooking, coding, comedy, and alliteration.
Josh has this to say about Kennedy & Graven: The unique challenges and opportunities that come with working with local governments and school districts motivate me, and the dedicated individuals who work at these entities serving the public good inspire me. I am honored to be able to contribute to this important work and privileged to do so alongside the experienced team at Kennedy & Graven.
Education University of Minnesota Law School, Minneapolis, Minnesota J.D. – 2014 Honors: o Maynard Pirsig Moot Court (Civil rights/civil liberties)
Reed College, Portland, Oregon B.A. – 2010 Honors: Thesis: National Innovation Systems and the Migration of the Highly Skilled Major: Economics
Bar Admissions Minnesota Oregon
Professional Associations and Memberships Minnesota State Bar Association, Member Hennepin County Bar Association, Member Oregon State Bar, Member