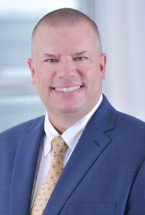 Troy J.
Gilchrist
Shareholder and Former President
612-337-9214
General Municipal Law, Township Law
General Municipal Law, Township Law
Troy is a shareholder and former president of Kennedy and Graven, Chartered, and practices in the areas of town law and municipal law.
Troy has over 30 years of experience working exclusively for local governments. Before joining Kennedy and Graven, he was an attorney with the Minnesota Association of Townships and then was the Director of Operations/General Counsel of the Minnesota Association of Townships Agency. In his positions with the Association, Troy assisted elected officials with their legal questions, conducted training sessions around the state, produced guidance documents on a variety of legal issues, advocated on behalf of towns before state agencies and the legislature, and assisted to develop and manage state-wide pooled self-insurance programs. During his time with Kennedy and Graven, Troy has further developed his local government practice and currently represents the cities of White Bear Lake, Crystal, Mound, Rice, Watson, and Biscay, the Lake Minnetonka Conservation District, several water management organizations, various joint powers entities, and has provided services to over 350 towns.
Troy received his B.A. in Criminal Justice from St. Cloud State University and Law Enforcement Skills Training at Alexandria Technical College. He received his law degree in 1992 from Hamline University School of Law. While in law school, Troy was a production editor with the Hamline Journal of Public Law & Policy.
In addition to his legal career, Troy served as a firefighter on the Becker Fire Department for more than 11 years and is the past President and Vice-President of the Department's Firefighter Relief Association.
Troy has this to say about Kennedy & Graven: I thoroughly enjoy working with local governments of all sizes to address their varied legal needs to help them achieve their desired outcomes.
Education Hamline University School of Law, St. Paul, Minnesota Juris Doctor – 1992
St. Cloud State University, St. Cloud, MN Bachelor of Arts magna cum laude Major: Criminal Justice
Bar Admissions Minnesota, 1992
Professional Associations and Memberships Minnesota State Bar Association, Member
Classes/Seminars Numerous workshops for township officials on local government legal issues